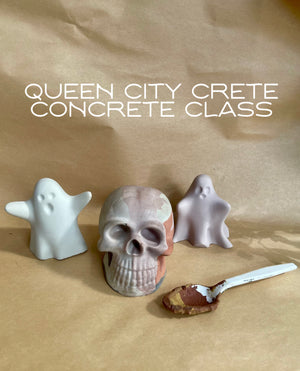 Fall Concrete Class at Winnie's Boutique 10/18
Come sling some concrete with me!
You'll get to make 1 concrete ghost and 1 concrete skull
Cost includes sips throughout the night and discounts on QCC items in  the store that will be exclusive to workshop participants!
Class will be held inside - aprons will be provided but don't wear anything you don't want to get messy. 
*please note that these items will have to cure overnight so you will have to come back for pick up at your earliest convenience once notified they are ready OR they can be shipped for the price of shipping
$48 per person
When: Wednesday , October 18 from 6:30-8pm
Where: Winnie's Boutique 1222 central Ave 
Maximum of 7 participants.